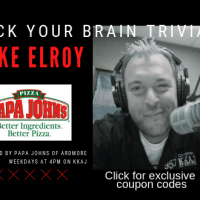 EVERYONE LOVES PIZZA, SO MAKE THE EASY CHOICE AND CALL PAPA JOHN'S IN ARDMORE!
MONDAY NIGHT, THE CARRYOUT SPECIAL-LARGE 1 TOPPING ONLY 7.59. Exclusive code: MonLG1
AND FOR A LIMITED TIME, IT'S BACK, THE DOUBLE CHEESEBURGER PIZZA, LARGE SPECIAL, ONLY $11.
AND ANY SPECIALTY PIZZA IS NOW JUST 11.99. Exclusive code: ARD1199
DOES YOUR SCHOOL NEED A FRESH NEW FUNDRAISER? ALL ORDERS USING YOUR SCHOOL'S CODE WORD, EARN 20% IN SALES.
CONTACT PAPA JOHNS IN ARDMORE, 223-7575.
NOT ONLY BETTER SERVICE, BUT BETTER INGREDIENTS, BETTER PIZZA, PAPA JOHN'S.