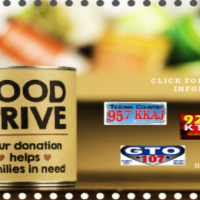 Stephens Media Group and their stations- 95.7 KKAJ, GTO 107, 92.6 KTRX, and The Spots Animal 107.5 FM/ 1240 AM- are proud to head the annual food drive to benefit local food pantries.
On November 16th, we are having a remote at ALDI to gather non-perishable goods!
Help us exceed our goal and, in turn, make sure everyone has a bountiful Thanksgiving this year!
Thanks to our sponsors for this event:
Ardmore Hearing Aid
Beane Western Wear
CBD Plus
Compost Tea Brewery
DOT Foods
First National Bank, Ardmore
Hunter Supertechs
Ideal Home Care
Open Gate Technologies
Solitaire Homes
University Center, Ardmore